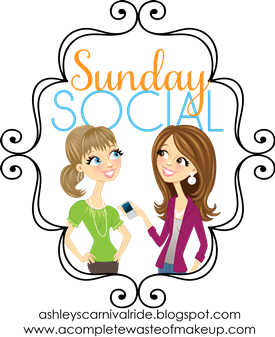 Hello! Here is another Sunday Social for ya!
If you could only eat one thing for the rest of your life, what would it be?
Pasta! ANY KIND OF PASTA!
What's your guilty pleasure/comfort food?
I am a cake girl.. all the way!!
What's the weirdest/craziest thing you've ever eaten?
I ate a lot of weird stuff in culinary school..
I remember eating a cows
tongue
.. and I was not too happy about it either!
What foods do you avoid at all costs?

Mushrooms.. I can't stand them. I can tolerate a
portobello but its just tolerable.. I don't really like it either.
What meal reminds you of your childhood?
Wow.. there are so many. I guess one would have to be either of my grandmothers beef roast, carrots, and
potatoes.
It makes me hungry just thinking about it!
Share one of your favorite recipes and the story behind it.
It was hard coming up with just one of my favorites so I am going to share 2! First is my
Croque Monsieur Ham and Cheese Recipe! I picked this one because this is a great meal that can be made in less than 30 minutes.. add a small green salad and you will have one of the best meals ever! I learned this also in culinary school many years ago and from that point on, I have been making it. Its so good and its doesn't cost a lot to make either! If you want to check out the recipe in full, click
here
!!
And to sweeten it up a little bit, maybe try to make these
Amazing crackle cookies!! OMG.. they are sooooooo freaking good! To see step by step instructions and pictures click
right here!
If you haven't tried these.. they are a must!!!!