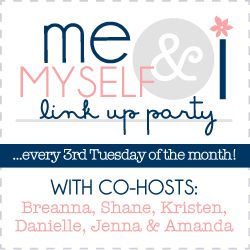 Today I am participating in a link called Me, Myself, & I
with Breanna, Shane, Kristen, Danielle, & Amanda. Its another link up party that I am happy to join in on!
1) When you're feeling down, what do you do to pick yourself up?
I know I am always saying stuff about Scott.. but he would be the one that I would call if I was really feeling down.
He has this amazing gift of making me laugh when I am about to cry. He is a very outgoing fun loving guy and in the mist of chaos.. he stays calm and always finds the humor.. a good laugh can help fix any problem.
2) If you had to live in a different time period which would you prefer?
Easy..
19th Century.
I mean who wouldn't want to dress like this??
BTW.. this is a new Vogue shoot with

Keira Knightley for the new Anna Karenina film. I have always been linked to the the 1800-1900's. I guess that's why I am a time period movie junkie!
3) What is the most creative Halloween costume you've ever worn?
I don't know how creative it was but the last costume I wore was a few years ago..
I was a sexy cat..
Not shocking huh!?
and I wore a cute kitty mask! I still have the costume and mask!
4) Five weird things about you we wouldn't know without being told?
1

. I breed Persian cats but I would love to also breed
Siamese
cats.
2.

I never put the bread tie back on. I can't explain why either but its just something I don't seem capable of doing!
3.

I hate minty strong toothpaste. I am sure its not great but I use kids toothpaste because the others are just too harsh for me.. Watermelon toothpaste is the best!
4

. I use to wear a lot of
jewelry
.. but now days, I can't stand to keep it on for very long. Not sure what happened to me!?
5.

I rarely eat breakfast or even lunch for that matter. I am use to dinner as my first meal and then I snack the night away. But I am trying to change things around!
5) What would you tell your 16-year-old self?
Wow.. I did a entire post on this a long time ago.. you can check it out
here!!
But I would tell her that life is hard.. but you will be ok . I would tell her to hang in there because the love of your life is going to show up and you will have a houseful of beautiful kids that make every day a new adventure. Just stay strong and know everything will work out!
Happy Tuesday!
K Jaggers
♥